Category: Swim Dealer
---
Ski Pro's 5th Annual Bing Bang Wakeboard Rail Jam Contest and Sale. Save up to 60% on Hyperlite, Liquid Force, Ronix and More. "If we can not get to the lake we will build our own" This type of Rail Jam event is becoming increasingly popular with both the wakeboard and water sports crowd. The construction of multiple pools submerged in over 20,000 gallons of water split between a rail slide featuring PVC/Wood construction, and pulled by a special winch provides the opportunity to show off skills in front of other participants and spectators.  This "Bing Bang Rail Jam Event" is part of an annual Wakeboard and sale at the Valley's three Ski Pro locations. Ski Pro has been helping to bring the fun and excitement of wakeboarding amongst other water sports to the valley for over 30 years and this event is just one more example of their commitment to these sports. Visit our website: http://www.skipro.com
The 2012 Summer Olympics will be held in London this year! Take a peek at a few of the facts behind this years swimming events.
Swim with Ski Pro! We have a diverse selection of incredible swim gear for all of your training needs. From top of the line swim suits to warm up outfits to the best training and resistance gear on the market. Check out our swim inventory today!
Thursday, 6 October 2011
by skipro in
Blog
,
Car Boxes
,
Contour
,
Dealers
,
Featured Videos
,
Gear
,
Go Pro
,
New products
,
Skate
,
Skate Dealer
,
Ski
,
Snowboard Dealer
,
Snowboards
,
Spyder Skiwear
,
Swim Dealer
,
Wake & Water Ski
• 0 Comments
We boast an incredible selection of gear and equipment from over 100 of the most popular brands on the market. With favorites like Columbia, Burton, Speedo, and K2, it does not matter if you are into wheels, water, or  snow; we have all of the gear and equipment you need. Check out our brands here!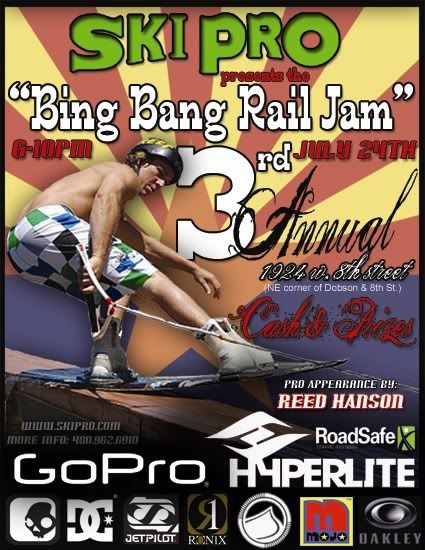 Its Ski Pro's wakeboard rail jam event time at the Mesa Ski Pro location. Don't miss the rail sliding action Saturday the 24th from 6 to 10pm where you can get up-close to the action while the best wakeboarders compete for cash and prizes by grinding out their tricks on the Ski Pro rail. This third annual rail jam is sponsored by, Hyperlite, Ronix, Liquid Force, Redbull, Jet Pilot, DC, Skull Candy, Go Pro helmet cams, NextGen Winches and Mo Jo Rails. The biggest names in high energy wakeboarding events, all at the Ski Pro Rail Jam. In the parking lot on the corner of Dobson and 8th street in the River View Shopping Center. Plus check out the huge selection of wake gear and accessories with guaranteed low sale prices at all three Ski Pro locations. This event is free to the public, so come on down to the Mesa Ski Pro location and check it out.
Live results from the 2009 ConocoPhillips USA Swimming National Championships and World Championship Trials at the Omega Timing web site.  Click here!
Ski Pro of Mesa puts on a couple demo days each year bringing out boarders of all types and ages. This year's rail jam was sponsored by our good friends at Red Bull and NextGen Winches (www.nextgenwinch.com). In true AZ spirit, Arizona's top riders all came out to cool off and have a little fun on the flat rail, fire up the grill, and enjoy some tunes from DJ Johnny K.