Posts Tagged 'Phoenix'
---
Water skiing is a sport which takes practice and athleticism. But once you're up, balancing on a single ski and skimming across the top of the water can be one of the most exhilarating experiences ever. Cutting your ski into the water as you transfer your weight on to the inside of your foot and zip and zag across the wake is great exercise. Whether you have been doing it for years or want to learn, here are some local spots to check out!
Phoenix/Scottsdale Area:
Panorama of Apache Lake
We have 90′s all weekend! Who's hitting the water? Ski Pro is your one stop shop for all the gear you need for the lake. Come see us and we will get you set up! Have a great weekend everybody!
Miller describes the title: "The sixty third feature film from Warren Miller Entertainment brings audiences to a place only recently identified by scientists; a place they now understand skiers and snowboarders achieve where, the faster they go physically, the slower things appear to them mentally. This a place of such singular focus and connection with their environment, they can achieve things previously thought impossible. So come with us as we enter . . . the Flow State."
December 5,6,8
Tickets available at select Ski Pro locations!
Ticket holders receive $25 off a purchase at Ski Pro!
Warren Miller – Flow State
December 5,6,8
Tickets available at select Ski Pro locations!
Ticket holders receive $25 off a purchase at Ski Pro!
Flow State was shot on location around the globe.
Flow State athlete Julian Carr will appear at the Phoenix area screenings of Warren Miller's Flow State Dec. 5-8! Julian is the Flow State poster boy and skis in the segment shot in Canyons, Utah.
Get your tickets to Flow State now at selected Ski Pro locations!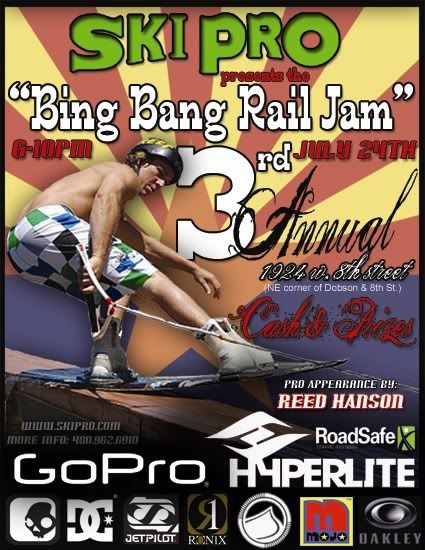 Its Ski Pro's wakeboard rail jam event time at the Mesa Ski Pro location. Don't miss the rail sliding action Saturday the 24th from 6 to 10pm where you can get up-close to the action while the best wakeboarders compete for cash and prizes by grinding out their tricks on the Ski Pro rail. This third annual rail jam is sponsored by, Hyperlite, Ronix, Liquid Force, Redbull, Jet Pilot, DC, Skull Candy, Go Pro helmet cams, NextGen Winches and Mo Jo Rails. The biggest names in high energy wakeboarding events, all at the Ski Pro Rail Jam. In the parking lot on the corner of Dobson and 8th street in the River View Shopping Center. Plus check out the huge selection of wake gear and accessories with guaranteed low sale prices at all three Ski Pro locations. This event is free to the public, so come on down to the Mesa Ski Pro location and check it out.
Original Article Posted at : http://www.examiner.com/x-12453-Phoenix-Skateboarding-Examiner~y2009m6d7-Skate-shop-hero
With the economy doing poorly and businesses great and small falling under ever increasing economic pressure, it is no small wonder that skate shops are suffering. Popular names such as Alliance and smaller, local shops like Curbside both falter and then fall in light of monetary difficulties. However, that's not to say that some places aren't doing well throughout these trying times.
Skaters all over need a place to purchase boards, hardware, stickers and their favorite colored grip tape, despite these missing shops. Someone has to fill that gap and Ski Pro manages to do so with interesting results. Located on 21st street and Camelback, your first impression is that the place is cool, current and energetic but what does it have to do with skating? Quite a bit, it turns out.
Tucked away in the back corner of the store is a section devoted to skateboarding. The back wall is plastered with a small selection of boards, several of which are local companies like Old Man Army: boards designed for the 35+ skate scene and bearing unique, original designs, or Zombie: boards that are more like your traditional deck layout. Ski Pro keeps their own distributor decks here, too called Homicide and they've got a selection of blanks that will make your jaw drop.
The shop may be out of the way but it is well worth the visit. Here's one reason. Their blanks start at $16.95 and their own Homicides at a mere $29.95. After putting it all together it was possible to make a complete board for $43.28 after tax; this included wheels, trucks, bearings, grip, the deck. Everything. For those who don't know, that's less than the price of a standard name brand deck- and nothing else. Furthermore Ski Pro provides modest support for local skate companies and even carries AZ Steez (a regional Skateboarding magazine).
This doesn't mean that skaters can't pick up more popular name brands like Creature or Plan B, articles of clothing or backpacks. But shoes were no where in site. With that said, it seems like Ski Pro has a small but worthwhile assortment of skateboarding supplies, a friendly, knowledgeable staff and great deals. So go check them out. You might be surprised at what you find.